Happy Holidays!  Merry Christmas!  Happy Hanukkah!  Happy Kwanzaa! from SEDONA, ARIZONA
I don't know what you guys did for your holiday break (if you had one), but I went to go see my sister and her family in Phoenix, Arizona. It was a great time!  I hadn't visited her out there in years.  I was definitely overdue for a desert adventure out in the old wild west.  After a lovely Christmas with plenty of food and laughs, my sister and I decided that we would take everyone to Sedona, which was only 2 hours away from Phoenix.  We wanted to take a family portrait with an epic desert background.  Sedona fit the bill.
We made it just in time for sunset for that perfect golden light.  The scenery in Sedona and all of it's beautiful energy was definitely a perfect backdrop.  It's been cold out in the west and Sedona was extra blustery.  It was a wind chill of 18.  Although, I think the wind chill had to be lower than that!  Brrrrrr!!!
We arrived as the sun was setting over bell rock.  We drove past a bit and found a park.  I got out a did a quick location scout.  I had my extra thick jacket (Thank you to my designer friend, Nordic Beach for the warmth), gloves, and a scarf.  We didn't have much time so I tried to find a location quickly.  Thankfully, I found a location within 5 minutes.  I climbed off the path up a small hill and boom… the perfect sunset with the red rocks right behind.  I got the lights set up and we did a couple of shots.
I brought in my medium octagon with a strobe light.  My old handy 5d Mark III and the versatile, 24-70mm.  Although, I wish I had brought my 50mm for some of shots.  Either way the results came out pretty well!
They don't look cold, but it was freezing!  My family are a bunch of troopers!  Off the jackets went and their epic poses!
Check out the results.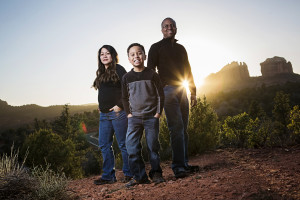 Lighting Technique:  I used the same Medium Octobox for these photographs.  The first photograph I lit them from the front with the sunlight coming from behind them creating that poster look.  There are several versions of this photo but I loved the sunlight coming from behind Shannon's (my brother in law) left arm.  The strobe was on the left side.
The 2nd photo – I moved them to where I had placed the light before – to my left because I wanted a different background and I also wanted a different lighting effect.  Since the sunlight was now to my right, my subjects would be lit perfect already, but I wanted to add a little more pop to them, so I had my strobe light come from behind my subjects on MY right but behind them, which created more of a rim light.  This time my key light was the sun and my "pretty sprinkle" light was my strobe.
Hope everyone has a wonderful holiday and Happy New Year!  Woah!  Today is New Years!  2015 went too fast!  Bring on 2016!!!!
Oh I have to say the obligatory line "See you next year!"
http://visitsedona.com/
www.sedona.net/
http://www.lonelyplanet.com/usa/southwest/sedona
https://en.wikipedia.org/wiki/Sedona,_Arizona
http://www.sedonawebcam.com/
www.travelandleisure.com/travel-guide/sedona